If you are happy with your time at rtCamp, you can refer your friends to rtCamp and earn a referral bonus.
There is no limit to how many people you can refer.
Earn USD 1000 (or INR 75000) for every successful referral + karma 😇 + ❤️
Process
First, log in to rtCamp's Employee Referral Platform using Google Login with rtCamp's email ID.
The Referral URL field will be auto-generated for you (highlighted in the below screenshot), which can be copied and shared with your friends.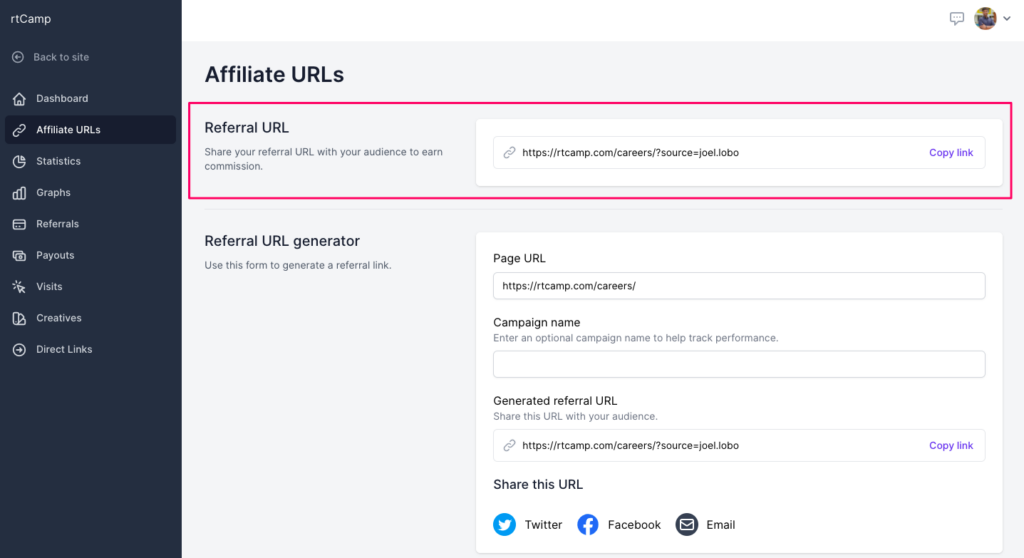 Note:
Referrals will be captured for anyone applying through your referral URL, irrespective of the position they apply to.
This platform also provides you with important information like referral tracking, visits, payout-related information (not configured yet), etc.
Generating Job-Specific URLs
If you would like to point your friends to a specific position, simply find the position on https://rtcamp.com/careers and follow the below steps:
Copy the Job URL for the position
Paste this URL in rtCamp's Employee Referral Platform under Referral URL Generator > Page URL (Shown in the screenshot below in section A)
Copy the Generated referral URL with your friends (Shown in the screenshot below in section B)! 🎉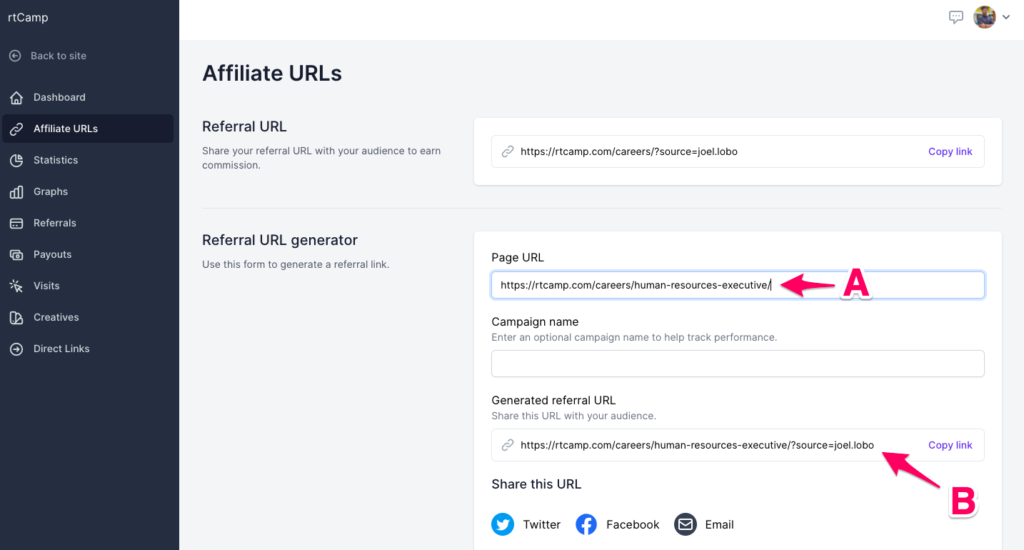 Boosting your referrals through LinkedIn
You can boost the number of folks you refer to each role, through LinkedIn's Free Job Posting. This helps increase the visibility of your post. Here's a quick tutorial demonstrating the steps. Take a look 👇🏻
FAQ?
Who can I refer?
You can refer anyone in your network. We leave it to your best judgment to refer only to people who might be interested.
Nobody likes impersonal spam, so be mindful when sharing your referral links.
When will I receive the referral bonus?
The referral bonus is disbursed after the individual completes 6 months in rtCamp.
Since this is a referral program, you should be with rtCamp at the time of disbursement.
How will I receive the referral bonus?
Depending on your engagement model with rtCamp, it will either be added to your salary/invoice.
We will use the currency conversation rate on the payout date to calculate the payout amount in your local currency. (USD to local currency)
The bonus payout will be subject to tax based on your local tax regimes.
What if my friend forgot to use the referral link?
Sadly, our only way of tracking referrals is through the above process.
If the referral link has not been used, we won't be able to attribute that as a referral to any individual.